Peanut butter Tea
Peanut Butter Tea is made from oolong and black tea leaves that are blended to create a unique blend of tea leaves. Baked with peanut butter flavor and not through coloring Therefore making it fragrant, smooth, easy to drink, most importantly, available only at Bluemocha tea roasting plant! It is very suitable for making pearl milk tea drinks.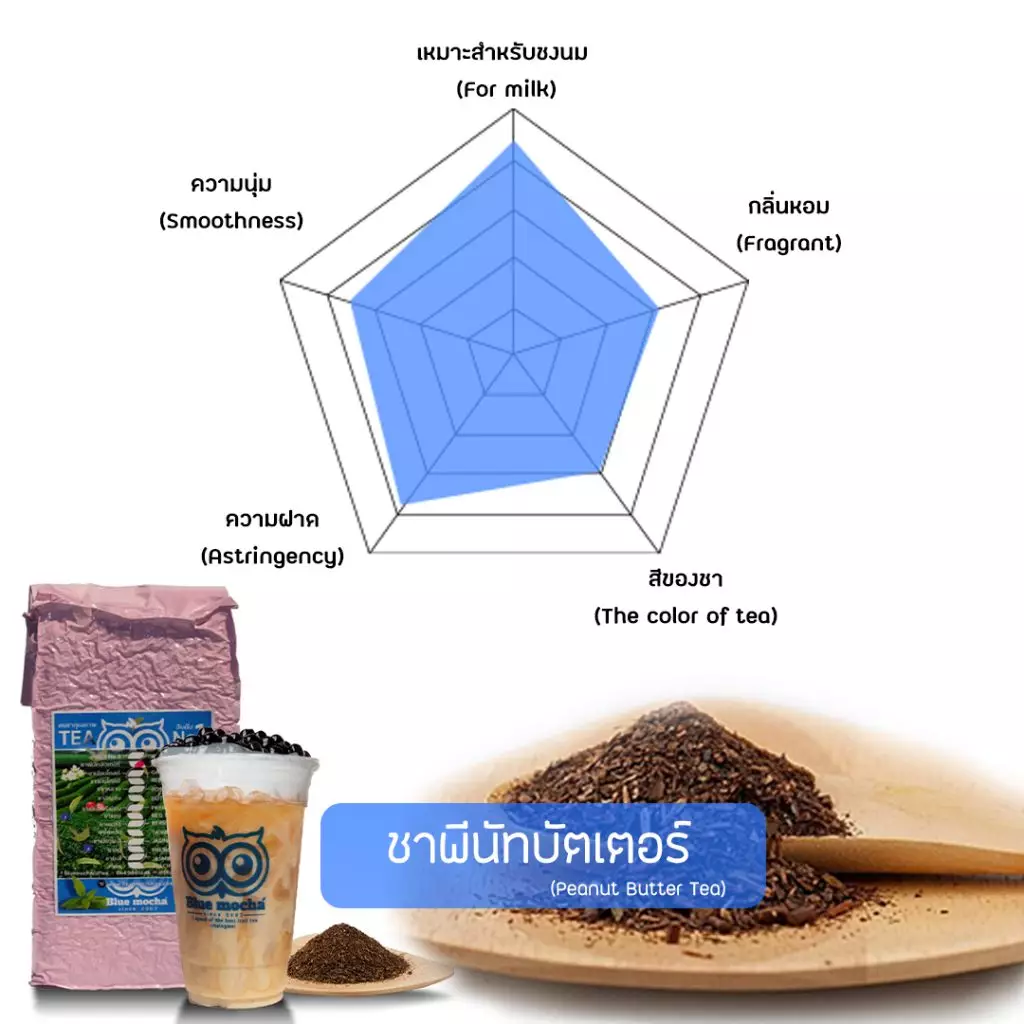 Unique identity of Peanut butter Tea
Tea color : reddish brown
Smell : aroma of tea leaves mixed with soft peanut butter
Taste : mellow
Brewing : brewed in hot water and mostly mixed with milk-type raw materials
How to use : Can brew all 3 types: maker / filter bag / boil
Shelf life : can be stored for 1 year
Packing size per bag : 500 grams
Cost per glass : 13-19 baht / glass for glass 16-22 oz.
1 kg can make 70-100 glasses.
Free delivery when ordering tea leaves over 5,000 baht (regular wholesale rate)
Free FDA request when ordering 100kg or more
Free delivery! When ordering from 5,000kg or more (special wholesale price rate, please ask admin staff on Line @Bluemochacoffee)
Interested in ordering Peanut butter Tea, contact via
ADD LINE automatically via mobile @Bluemochacoffee or call 064-9045146
See more information on Facebook : @Bluemochatea
Order online: https://bit.ly/3qSl0Nq
How to make Peanut Butter Tea for a mellow taste
If you want to get a tea drink with a mild aroma. Must use peanut butter tea leaves from Chiang Mai Bluemocha tea roaster factory, suitable for coffee shops, bubble tea shops that want to have delicious drinks as the shop's signature. and as an additional option for people who like to drink milk tea. Today we do not miss to have a recipe for a smooth milk tea drink for you.
Taiwan milk tea recipe
Recipe ingredient
14 grams of tea powder
1 tbsp creamer
60 ml. fresh milk
40 ml sweetened condensed milk
ice
How to make the recipe ?
Maker : extracts 120 ml of tea.
Filter bag : use 175 ml of hot water, steep the tea leaves for 3-5 minutes, pour the tea alternately 3-4 times.
Then filter 120 ml of tea.
Add creamer, sweetened condensed milk and mix well.
Add fresh milk to follow. Stir well again.
scoop ice into glass and then pour the tea.
You can add pearl toppings or others as you like.
FAQ (frequently asked question)
Q : Taiwan Peanut Butter Tea what kind of smell
A : It has a clear peanut butter aroma, smooth and easy to drink.
Q : Can it be stored for more than 6 months?
A : It can be stored for up to 1 year without opening the bag. Once the bag has been opened, store it in a jar with a tight-fitting lid.
Q : Is there a recipe for boiling and brewing?
A : We have a recipe for boiling tea and making tea for free. You can ask our admin staff.
Q : The tea smells very good. Would you like to have your own branded products as well?
A : Yes, because we accept OEM tea production. You can contact the staff right away.
Q : What are the terms of delivery?
A : When customers order tea leaves from 5,000 baht or more, we offer free tea delivery nationwide. (You can mix tea), but if you order less than 5,000 baht per time, the delivery fee will be charged according to the actual rate from the shipping company.
Chiang Mai bluemocha tea factory : Address 33 Taewarit Rd, Chang Phueak, Mueang Chiang Mai District, Chiang Mai 50300
Tel.064-9045146
Other Products